4 years ago
Robbie Keane: Football's great adventurer prepares for the Indian summer of a glittering career
From West to East.
It transpires that Robbie Keane's imminent Indian adventure with Atlético de Kolkata would probably have been postponed if certain people weren't intimidated by him.
Advertisement
Not intimidated in the way that Edgar Davids must have been after Robbie gave him a couple of jabs to the chin when they were feuding Spurs team mates.
Intimidated in the way people all over the world are when they meet someone who's completely unafraid to go 'all in'. Made jumpy by a voracious competitor.
Over the last twelve months there have been opportunities in England to keep playing at a good level, and assist in coaching, which apparently didn't materialise because some managers were afraid of him.
Advertisement

Instead, this compelling, slightly dangerous, bright, competitive and remorseless man is packing his back for life in India.
A fact which may end with some who are involved with Calcutta's defending Indian Super League champions receiving either a startling dressing down, or a life lesson.
Keane thinks massively highly of his new manager, Teddy Sheringham, and is an adventurer at heart.
Advertisement
Having rolled the dice to end up here in Spain myself fifteen years ago - I see a fellow buccaneer spirit. This will be the fifth country in which he's earned professionally.
But back to the theme which defines Keane. And it's neither goals nor karaoke.
When we talk it's in Malahide Castle in a beautiful part of his native city, Dublin.
Advertisement
It's for my podcast, The Big Interview, and we chat for about 90 minutes.
During that time the dominant subject is the difference between those who pretend to want to win, but who are content with just coasting along in a comfort zone, and those who are willing to commit absolutely everything to win.
Those, like him, who are obsessed with playing, succeeding and excelling.
We are in the middle of discussing the mini-hierarchy he established at LA Galaxy.
Advertisement
I've asked him whether the level of authority he assumed there didn't threaten his coach - given that many managers find forceful, opinionated senior pros a sphincter-tightening threat.
Keane: "Bruce Arena let me and David Beckham take care of anything that went wrong in the [LA Galaxy] dressing room.
"Bruce was a humble, quiet man.
"When he wanted to say something, he'd say something but he wanted to let the senior players deal with the whole thing. So we did that and it was no problem.
"There are some managers who are threatened by senior players and I realised that this year when I was deciding where I wanted to go.
"People in England were frightened to take someone like me on because they were frightened that if they got the sack, you might take over their job, which is a shame really because it is important to have senior players around.
"Those experienced players can actually try and save people their job or they can help the younger players to grow.
"It's been an eye-opener for me in the last year."
The reason I wanted Robbie to talk football on the Big Interview is that he's commanded my admiration for just about the length of his career since I watched Football Focus send Frank Stapleton to do a scouting feature on this talented kid bursting into the Wolves team twenty years ago.
The fact that he talks well is a bonus, not the cause of my respect for him.
He'll speak his mind, without fear of the personal consequences. My guess is that he'll have created a cache of people who feel like they've been rumbled or disrespected or who feel envious of him.
But, having been a captain for so long now, he'll speak his mind to people who might wither under criticism at a time and in a place which is appropriate.
Where his words may do some useful good.
In other words, the transition from Robbie Keane record goalscorer and relentless competitor to Robbie Keane coach and manager is well underway. [My bet is that in due course he'll manage both at Galaxy and the Ireland team]
His verdict on what he achieved at LA Galaxy tells a story.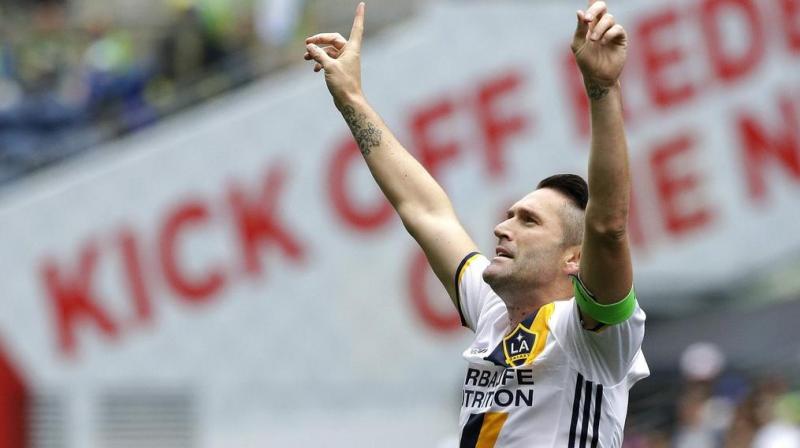 For a guy who's brutally competitive and driven it should be all about the trophies he won...or being named as the best/most successful foreign player MLS has ever recruited
Even the fact that his scoring ratio for Ireland actually went up while he was training and playing in the US.
No. Nothing like it.
Keane again: "The first thing David Beckham said to me in persuading me to join LA Galaxy was 'We have a great team, but we're missing something specific. The thing we're missing is YOU - we need you to take us to the next level.'
"I was with David for a couple of months training at Tottenham, we got on really well and he was the one who told Tim Wielike, who was the [LA Galaxy] CEO: 'You need to get this guy'.
"David is one of these people who is so desperate to win things and so desperate for the team to do well that he's not just picking me because I met him a few months before and we had a little chat.
"However and David and I had played to such a high level that, at Galaxy, some of these kids were coming from College, some had played in the league for a few years, but they didn't have that winning mentality.
"They're good lads, they have a great honesty about them, they're fit even if, technically, they might not be as good as England.
"But sometimes after defeats they would be joking on the bus whereas me and David would be fuming for two or three days if we lost a game.
"When I first went there the coach said to me 'these players are not really used to people having a go at them'. I said to him: 'Well, you've got the wrong player, I'm here to win.
"Myself and David had to try and flip that, to change the mentality. Forget about winning those three [MLS] cups and getting the [MLS] MVP, my greatest achievement was changing the mentality of those players in that team.
"Whether it was in training, I wanted to win. If it was a shooting session I wanted to win. In games, I wanted to win.
"In Ireland and England you grow up playing football in the street. You leave here at 15, go to England and play at 17…players around you already have that mentality so it is driven into you.
"Maybe, as I found sometimes, some people are just happy to live in LA – finish training and straight to the beach. I'd be the last one off the training ground doing shooting practice: always.
"I was acting like a coach [in LA]. I'm not afraid to tell people things, regardless of who it is. They saw me as the leader. "When it came to big games they looked to me and David as the ones to turn to when things were going bad.
"I'll never disrespect a player in front of anyone but if I'm telling them something it is for the benefit of the team'. There were times when I had to pull young lads aside and try and help them as much as I could. My legacy was to create and leave behind a different winning mentality at the club"
I ask where this drive, this steely core comes from, and Robbie talks about where he was born.
He clearly has absolutely no wish to be misinterpreted that he's putting Tallaght down. And woe betide anyone who does that.
But he's brutally honest on every subject.
He concedes that: "Tallaght's a great area, a tough area.
"You have to be mentally strong. A lot of shit happened there when I was younger – cars getting robbed in the street, drugs. "But for me growing up there, I didn't know anything different.
"There were fights on the street you had to be strong, you couldn't back away from people, you couldn't show that weakness and let people bully you. So I definitely get [his mental strength] from there.
"And also for the love of playing football. I'd play football for free. Sunday morning whenever I came home in the summer, all of my friends – brothers, cousins, mates - from Tallaght play 5-a-side."
It's at this stage of the conversation I have to laugh at myself.
I've always adored footballers who love football in a head over heels, obsessive way.
I tell him about Peter Beardsley saying that as a kid if there there had been a fire in his house the first thing he'd have thought was: 'Where's my football?'
And also the story of Edgar Davids persuading Zinedine Zidane, when the two were at their peak at Juventus, to come and play a bounce game on a piece of flat ground with some workies in Turin - simply because the Dutchman lived for street-football as much as winning Serie A or the Champions League.
That idea of Robbie playing bounce games with his mates while under contract to major clubs and taking a big risk with his contract made me tell the Davids-Zidane story and ask him how any of them could risk the potential consequences of getting injured?
The mention of Davids' name brought an old-fashioned look from my interviewee, a very distinct change of expression, but nothing more is said about it until this last weekend when ex Spurs boss Martin Jol reveals that Keane and the Dutchman had fisticuffs when tensions rose at Spurs.
Davids may have been nicknamed Pitbull but Keane is the one history will record as having had the bite to match his bark.
Another little highlight in this long, comprehensive chat is when I ask Robbie why given his dislike of those who aren't 'all-in' when it comes to getting everything from their talents it's still Dimitar 'any-more-laid-back-and-he'd-be-horizontal' Berbatov who's been Keane's favourite ever strike partner.
I get told.
"Berbatov plays in a very similar way to Eric Cantona, you can tell by the way he moves. Cantona had a scary mentality. Sometimes, with the way he walked around, it looked like he wasn't really into what he was doing, but then he would just switch it on.
"Berbatov was the exact same. If his team wasn't winning in training, you'd see a different side to him – he would have a go at people.
"So I think it's just his body language – sometimes body language can fool people. And he was like that. He'd walk around and then come alive when he got the ball. But he was very clever in how he played the game.
"He maybe looked like he wasn't working for the team but he knew his positions very, very well – even if he walked into those positions. The relationship we had on the pitch meant I knew exactly what he was going to do from day one when he walked through the door – without practice. And he was the same.
"If you don't know Berbatov he is a tricky character. He's very reserved, always come in dressed immaculately with a suit or suit jacket on, he brings his own knife and fork to training.
"I don't think many folk really got to know him apart from me and one or two others.
"We're good friends even now and speak to each other quite a lot, and when India wanted him I was the first person he called. I know him well and I know his mentality. Don't be fooled by the way he walked around the pitch.
"In training he wants the ball all the time. It doesn't matter if he is marked by two players, he wants the ball – that is a strong mentality in itself."
Takes one to know one. Watch out Calcutta - one of the modern greats is coming your way.
Listen to a free extract of The Big Interview with Robbie Keane. To access the full 80-minute interview - and unlock hours of bonus content including weekly shows and exclusives Big Interviews with Ledley King and Rafael van der Vaart - become a Big Interview Socio"