4 years ago
COMMENT: Premier League champions, dazzling football...and the casual homophobia that never went away
"Linesman, you're a faggot."
Those are four words that have been running through my head on a continuous loop since about 5.45pm on Sunday. They were shouted aggressively by a man two rows in front of me, a fellow season ticket holder at Manchester City's Etihad Stadium, as he stood from his seat next to his teenage son, and gesticulated wildly during the 5-0 win over Swansea.
Advertisement
He wasn't particularly angry. He'd certainly had a few moments to compose himself from the incident that had caused outrage in the block where we both sit. The swell of noise that follows an assistant giving a decision perceived to be wrong lasts for a few seconds - and angry things are shouted, usually relating to the official's competence at their job, or their inability to use a flag properly.
That had gone. It had already happened. There was calm again. The free kick - which really should have been a free kick - to Bernardo Silva was ignored and play continued. Swansea brought the ball away. City won it back and tried to play it through again. Swansea reclaimed possession once more as their defensive line stepped up, with the assistant doing the same to keep up with play.
Advertisement
All in all, up to 30 seconds could have passed in that time. In that period, the man - probably in his early 50s and a regular in that seat ever since I moved to that block in 2010 - calmed down and then picked those four words to shout. He'd never done anything to suggest he would one day launch a homophobic slur out of nowhere.
"Linesman, you're a faggot."
He sat down to a mix of reactions. Some ignored it. Some laughed. And everything carried on as normal. Nobody said a thing about it and the fans around us both continued to watch the game as if nothing had happened.
---
Advertisement
Since Sunday afternoon, I've been replaying the incident in my head over and over again. Should I have leaned over a couple of rows and called him out? It wasn't convenient, but it certainly would have been possible. Why did nobody nearer to him call him out? Was it because they didn't feel like they could, or was it because they didn't feel like it needed calling out?
Surely nobody could have heard "Linesman, you're a faggot", and thought that everything about it was pip and dandy? It's not 'just banter' - a phrase intended to excuse horrible behaviour that makes other people feel uncomfortable - as contrarians will tell you. Banter is giving people a ribbing about embarrassing themselves, or teasing them in a good-humoured way. Frankly, it's a pretty clear line.
In response to the incident, Manchester City have said they strongly condemn discriminatory behaviour in the stadium, and have confirmed that they are investigating what happened.
There's a misconception about being gay - or, more accurately, not straight - in this country in 2018. LGBTQ rights are better than they've ever been and the treatment of anyone who is not heterosexual is at its most tolerant in the country's history. To many, because they don't see incidents of homophobia, or because the world is tilted towards heteronormality, the assumption is everything is now fine because of that.
Advertisement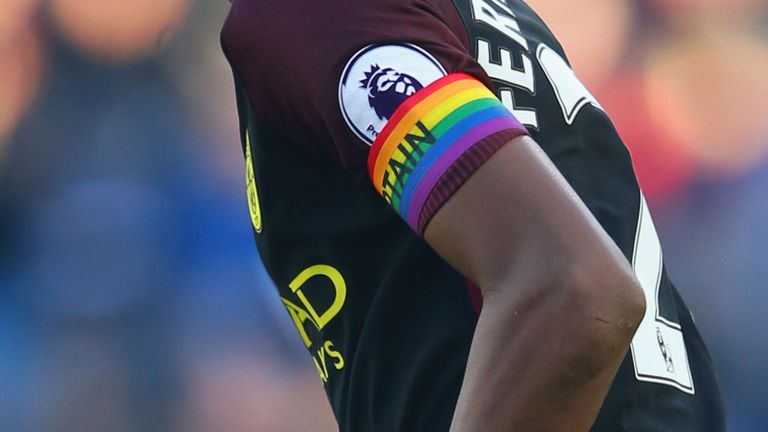 It is not, and that's starkly evident in football. There are no openly gay footballers, despite the UK being more accepting than it's ever been. That's something that should begin to raise some questions - are closeted players (because they do exist) not happy to be out because of the reaction of their teammates, the reaction of the crowd, the reaction of the media, or all three?
A study by BBC Radio 5 Live in 2016 found that nearly one in ten fans would stop watching their team if one of their players came out. The vast majority of supporters - 82% - said they'd have no problem with gay players.
But here's the paradox: I'm fairly sure that wouldn't stop them using it as a stick to beat an opponent with. It's often felt that anything that can be used to get any sort of advantage is a viable option - which is why FA Chairman Greg Clarke told MPs in 2016 that he felt an openly gay Premier League player would face "significant abuse".
Around that time, former Blackburn, Chelsea and Celtic striker Chris Sutton urged gay footballers to open up about their sexuality, saying there's never been a better time. Yet, for homophobic slurs to be the go-to insult for some fans - incidents are rare, but tend to happen every season - suggests the stands are far from ready.
Advertisement
It's also very easy for straight people to say now is the perfect time. They're not the ones who risk alienation, isolation, ridicule, or discrimination - whether footballer or not.
---
Whatever their orientation, it's easy to understand why some supporters would prefer not to challenge homophobic comments from the stands. They understand all of those same fears and know what the reaction could be to them speaking out. What if nobody else challenged it because they don't see it as an issue? Why risk becoming a target?
On Sunday, I sat bristling in my seat thinking about that incident for the rest of the game, annoyed at myself for not having the balls to do something about it, other than report it to the club. Nobody should have to listen to that sort of language while trying to enjoy the football.
The phrase "Linesman, you're a faggot" has a lot more buried inside it than what seems like a throwaway insult on the surface. It is decades of fear, hatred, and persecution, all rolled into four little words - a true meaning that many who use such language probably don't realise.
They are the sort of people who have gay friends and family members, and so don't consider themselves homophobic - except they're happy to share views that suggest otherwise, and use language that hurts and scares others.
That man in question's son is around 17 or 18 years old. Statistically he is likely to be straight - but what if he's not? What if, hypothetically, he is hiding his true sexuality? How would he feel hearing his dad use that language? What if he is straight, and grows up thinking that it's acceptable to say things like that?
"Linesman, you're a faggot."
Those four words sum up exactly why football is still in the dark ages in so many respects.
---
David Mooney is a writer, journalist and broadcaster based in Manchester, and works at BBC 5Live as a radio news producer. He is a season ticket holder at Manchester City and founded the Blue Moon Podcast.