He labelled This Morning the 'best show to work on'
Phillip Schofield has hit out at those with a "grudge" against him in a new statement on social media.
The 61-year-old announced on Friday that he had resigned from ITV after admitting to he had lied about an "unwise, but not illegal" affair with a young male colleague on This Morning, whilst he was married to his then-wife.
Since then, a number of Schofield's former ITV and This Morning colleagues have hit out against him and the show.
Most recently, former This Morning star Dr Ranj released a statement criticising the show's "toxic" culture.
This morning, Schofield took to social media to hit out at those who have a "grudge" against him and defend This Morning against the claims of toxicity.
He said on Instagram: "Now I no longer work on This Morning I am free to say this.
"I hope you have noticed that it's the same handful of people with a grudge against me or the show who seem to have the loudest voice.
"This Morning is the best show to work on, with the best people.
"In all the years I worked there there was no toxicity.
"You can listen to those persistently loud voices if you like.
"But the thousands of guests over the years, thousands of staff and crew, hundreds of presenters and contributors all know, it is a family of wonderful, talented, kind, hard working people."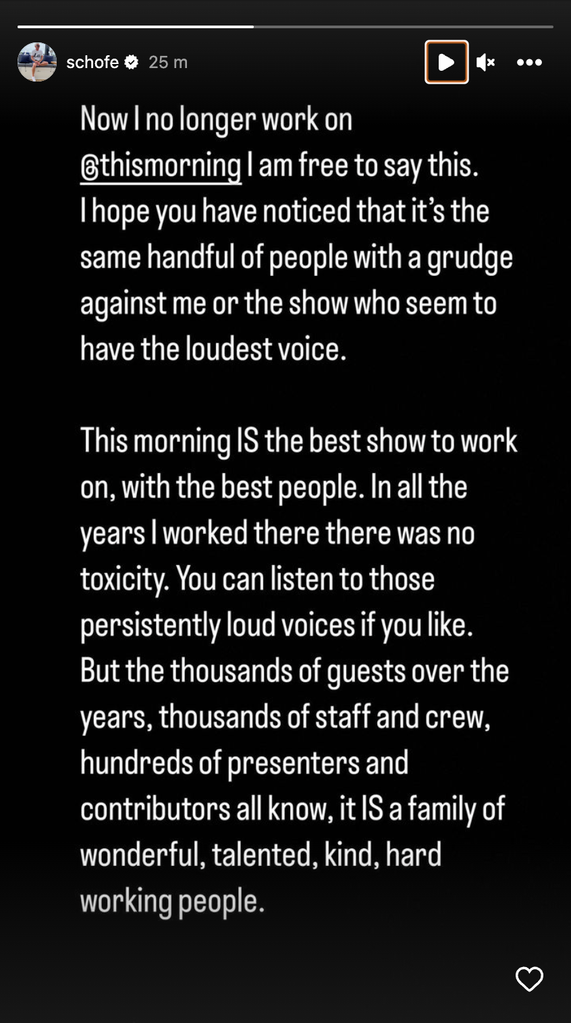 Ranj Singh, who used to be the show's resident doctor, said he raised concerns about "bullying and discrimination" two years ago when he worked there and afterwards felt like he was "managed out" for whistleblowing.
Another vocal critic of Schofield in recent days has been former This Morning presenter Eamonn Holmes.
The GB News presenter has accused his former colleague of 'deceiving and lying to' him during their time on the show together.
He has also claimed that senior figures at ITV knew "what sort of man he [Schofield] was."
Schofield's statement comes as This Morning returns on Monday with Alison Hammond and Dermot O'Leary hosting.
Yesterday, The Mail on Sunday reported that Schofield first met the younger ITV colleague whom he later had an affair with when he was aged 15.
Lawyers representing Schofield have confirmed they met when the boy was 15, but said the affair began after he started working at ITV, and the man's lawyers have also said that it started after he joined the broadcaster.
Related links:
This Morning 'facing the axe' following Phillip Schofield affair scandal
ITV issues statement amid claims Holly Willoughby was involved in Phillip Schofield's exit