4 years ago
Liverpool fans mock £100m Pogba, claiming Emre Can will 'destroy' him
Let the needle begin.
Manchester United fans and Liverpool supporters don't need an excuse to have a row. The Premier League's fiercest (and most silverware laden) rivalry is as fierce off the field as it is on it. With such enigmatic managers as Jose Mourinho and Jurgen Klopp in charge, this coming season promises to be as competitive and intriguing as ever.
Advertisement
With Paul Pogba on his way to Old Trafford for a world record fee, Mancunians of a red persuasion are understandably ecstatic about landing one of the game's most sought-after players. Just as understandable is the wholesale derision from Anfield way. In fact, not only are they contemptuous of the financial outlay, but they believe they boast have a better player.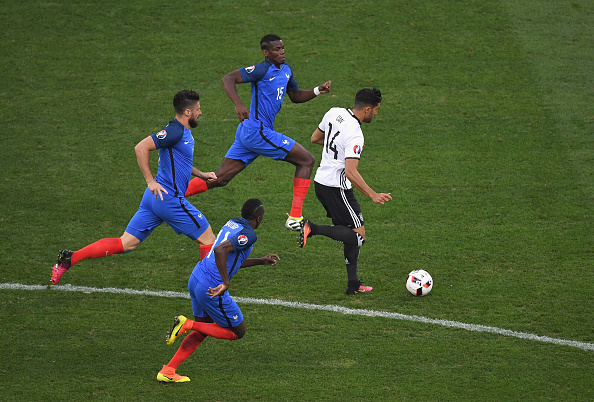 The contention is that Emre Can - who cost just shy of £10m from Bayer Leverkusen - is superior to the £100m man joining Mourinho's cash-fuelled revolution at United. Now this may sound like something of a windup by Scousers looking for a rise from their Manc equivalents, but there does seem to be a feeling that they'd rather have Can in their side than the Juve player.
Not only do they feel that the burly German will dominate Pogba in any individual clash...
Emre Can to destroy Paul Pogba next season. Excited af. ROC

— Фрэнк (@RedOesterCult) July 7, 2016
Advertisement
Can't wait for Emre Can to dominate Pogba next season 😊

— gK (@gmxnu) July 27, 2016
Cant wait to see Emre walk through Pogba.

— Mentality Midgets LEAGUE CHAMPIONS (@gingerhulk) July 27, 2016
Emre Can will sit on Pogba for the next couple of years anyway, it's calm

— now @husslehowes (@teethept) August 1, 2016
Advertisement
...but they argue that the Bayern Munich academy product is a finer footballer too.
Emre Can is a better footballer than Paul Pogba. I am genuinely serious. And he cost us £90m less.. #lfc #mufc

— Solly (@solly_feni1) July 10, 2016
Advertisement
Am I deluded for thinking Emre Can is a better footballer than Paul Pogba?

— hamada (@parallexviews) July 28, 2016
Are you telling me there is £110M between Emre Can and Pogba? Can is proven in the BPL and his passing is actually better.

— Robson. (@ROBSON_THE_RED) July 20, 2016
Advertisement
Paul Pogba (£120M) vs Emre Can (£10M)#EmyuButut pic.twitter.com/i4EFRTAhb8

— Fzn (@FauzanKurnia_B) July 22, 2016
As you can imagine, such claims have not gone down very well with United fans, who seem in equal parts very annoyed and heartily amused...
Emre Can > Paul Pogba pic.twitter.com/ver4BzwFCC

— • (@Baka234_) August 2, 2016
People don't actually think Pogba is better than Emre Can do they?

— Aristotle (@Jurgenosophy) August 1, 2016
Emre can being compared to Paul Pogba, what a time to be dead

— HipHopRelated (@HipHopReIated) August 1, 2016
Here's hoping Pogba's deal gets sorted so we can see the two match up.