4 years ago
Hector Bellerin's vegan diet criticised by man who is a perfect advert for healthy living
That's Hector Bellerin told.
Following Arsenal's semi-final elimination at the hands of an excellent Atletico Madrid side on Thursday night, Hector Bellerin has been slammed for his vegan lifestyle by talkSPORT presenter Alan Brazil, who is an excellent advert for meat consumption, and definitely doesn't look like Thanos masturbating into the back of a spoon.
Advertisement
Brazil, who used to play football but now mainly shouts a lot on the radio, implored the Gunners defender to "get a steak down him", preferably raw, advising "that'll help." When co-host Ally McCoist asked him whether eating a slab of meat would improve the player's positioning, Brazil confirmed that yes, yes it would.
Brazil went on to mock vegans in general, making the very original joke that vegans love to remind people that they are vegan. And in fairness to Brazil, he has never bragged about the fact he is quite clearly a qualified sports nutritionist to be making such sweeping judgements about Bellerin's dietary requirements.
Advertisement
As for the Arsenal fullback, who clearly doesn't know his own body as well as a 58-year-old shock jock, he shared his positive experience of going vegan with the Players' Tribune:
"At the beginning I wanted to try it for a couple of weeks to detox my body and stuff, but I just felt so great after it that I've been doing it for months now...I was waking up in the mornings and had so much energy whereas before I used to be that person who would snooze the alarm five times before they got out of bed."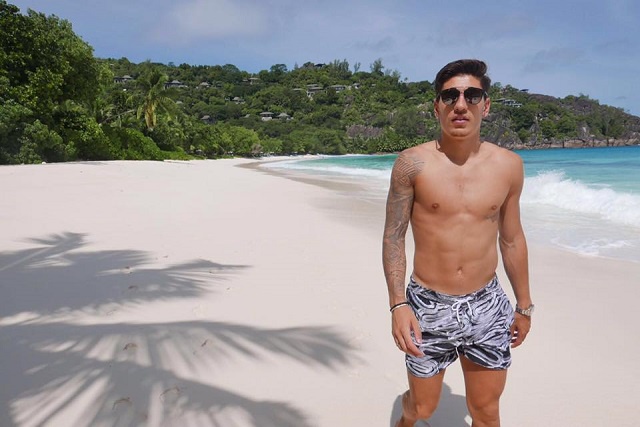 Of course, thanks to Alan Brazil, we now know this is all made-up vegan propaganda.
Advertisement
The former Scotland international, who claimed he was treated worse than a paedophile when arrested for drink-driving, went onto compare Bellerin unfavourably to Diego Costa. "Look at Costa," the committed carnivore exclaimed, "do you think he has a Caesar salad every Sunday lunch?"
Costa's resurgent form has been attributed to the fact he lost 10kg in three months under the supervision of Atletico fitness expert Óscar 'El Profe' Ortega, who oversaw a minimum fat diet "with lots of fresh tomatoes and steamed vegetables."
And no gammon, presumably.
Advertisement