When life imitates art…which has already imitated life.
Since the beginning of time, there have been some unbelievable, amazing, world-changing scientific discoveries.
The invention of the wheel, the discovery of penicillin and Celine Dion's 1996 album, 'Falling Into You', are all amongst humankind's greatest endeavours, but this latest scientific find has to be up there with the best of them.
Amphibian-loving boffins working in Costa Rica have discovered a new species of  glassfrog that looks uncannily like Kermit the Frog, everyone's favourite Muppet.
Sorry, Fozzie.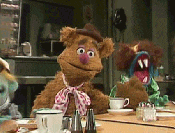 Brian Kubicki, of the Costa Rican Amphibian Research Center, wrote more on what makes this new species so unique (you can read that here), but all we want to do is compare a photo of the two fantastic frogs together.
Meet Kermit's real life doppelganger! @TODAYshow @TheMuppets #Kermit #Muppets pic.twitter.com/sZo0E9CxPs

— Muppet Central (@MuppetCentral) April 20, 2015
Disappointingly, the Latin name for the new species is 'Hyalinobatrachium dianae' and not 'Muppetus SingusAlongus'.
Now all we need science to do is find a real-life Miss Piggy.
Just because we're interested in it for scientific purposes of course, not because we're attracted to her in any way.
Damn sexy pig.
Hat-tip to The Telegraph and pic via imgarcade.com