3 years ago
Conte's Chelsea have all the streetwise nous of champions that Klopp's Liverpool currently lack
Rarely has a draw more clearly marked a difference.
Call it what you will, match hardness, a winning mentality, ultra-professionalism, killer instinct; however you choose to describe it, Chelsea have it to an extent that Liverpool don't. Of all the qualities that champions have, this is the one that most of them have in common. Few in the modern game are better at instilling it in teams than Antonio Conte, hence why Chelsea departed Anfield with the point they came for and with their lead at the top of the Premier League extended.
If the difference between the two teams is measured statistically by a 10-point gap, the gulf in their respective mentalities is arguably greater. While Chelsea have now mastered their own weaknesses to a point at which they rarely appear, Liverpool's remain painfully obvious and continuously undermine them. For all the talk of fatigue, of injuries and of ill-fortune, Klopp's biggest problem is that, unlike Conte, he does not have enough players that he can trust.
The tone is set in the goalkeeping positions. Simon Mignolet and Thibaut Courtois may share a nationality and both wear gloves, but the similarities do not go too much further than that. While Conte knows what he will get from Courtois on a game by game basis, consummate professionalism and technical excellence more often than not, Klopp can only expect that Mignolet will come up with new ways of confirming that he is not at the level required.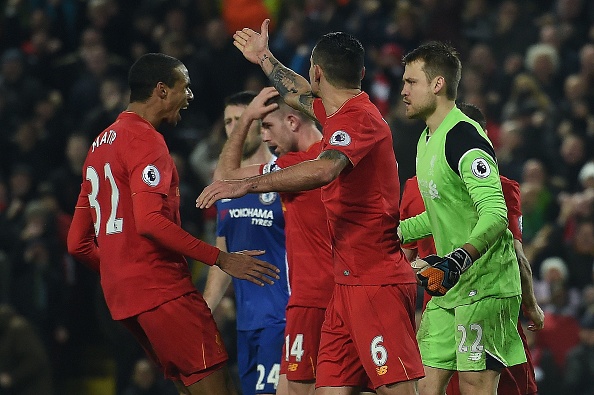 Last night it was an abject, utterly flawed attempt to line up a wall that Chelsea, as they do, took full advantage of. David Luiz's wonderful, technically brilliant execution of the free kick would almost certainly have resulted in a goal anyway given the accuracy of his strike, but the sight of Mignolet heading in the wrong direction while not looking at the ball as it was struck provided the latest damning evidence of his shortcomings.
This was the kind of error that no-one would expect Courtois to make, or David De Gea or Petr Cech for that matter. Top goalkeepers are not caught out like that but Liverpool's is and far too regularly. Not that Mignolet was alone in falling short, Liverpool's failure to stand on the free kick before it was taken, a staple even of amateur football, left them exposed, while Jordan Henderson did not cover himself in glory in the wall.
At Chelsea's next free kick, Coutinho stood on the ball but by then it was too late, the damage had already been done. Later in the game, Willian prevented Liverpool from taking a quick free kick deep in their own half and received a yellow card for his troubles. Had he received a fine for the offence, Conte would have paid it for these are the hits that managers expect their players to take for the team. Chelsea, schooled by Jose Mourinho as Klopp noted in his programme notes, do it more often and better than most.
These are not dark arts, they are the necessities of being ultra-competitive and at key moments Chelsea use all of their know how to deliver them. Whether it was Nemanja Matic handling twice to prevent Liverpool from taking up promising positions in midfield, Diego Costa taking an age to walk off the pitch when being substituted or Gary Cahill breaking up play in stoppage time by going down in his own penalty area to tie his laces, their superior streetwise-ness was always evident.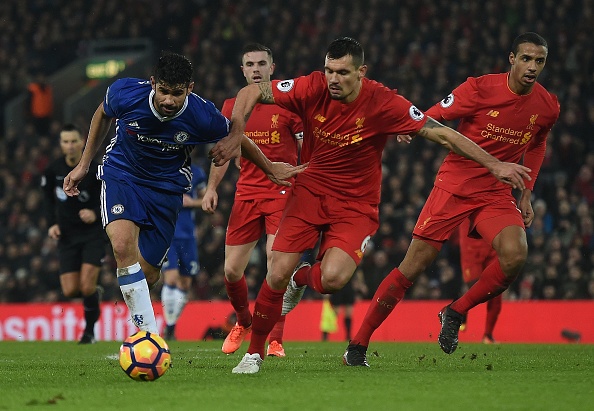 Liverpool have qualities and plenty of them but this is an area where they do fall short and that is nothing new. An absence of cynicism may endear them to neutrals, particularly when their football is as impressive as it was before Christmas, but it will not aid their attempts to end their long wait for a league title. A meagre return of three points from their last four league games means that ambition has become a long shot for this season, even though Georginio Wijnaldum's second half equaliser kept their hopes alive on a night when they could have been extinguished.
In fairness to Mignolet he did redeem himself to some extent with an excellent stop from Costa's penalty as Liverpool just about prevented the title race from being all but ended before January had ended. For once, Chelsea's ruthless edge had been found lacking but even in the build up to the award they had shown once again that they could take advantage of Liverpool's comparative greenness as Dejan Lovren lost possession before Costa suckered Joel Matip into conceding the penalty that he missed.
After that, the expected late Liverpool onslaught failed to materialise as Chelsea strangled the life out of the game, as personified by N'Golo Kante preventing Sadio Mane's attempts to surge up the touchline from leading to anything other than a Liverpool throw in. Roberto Firmino did have one belated opportunity but like an earlier chance, the Brazilian was unable to take it. Liverpool had given all that they could, but when it came down to it they did not have quite enough to make the kind of decisive difference that would have made Chelsea at least slightly nervous about the size of their advantage at the summit.
Liverpool's chances of closing the gap this season may be diminishing but at least Klopp has identified where his team needs to improve if they are to become more competitive going forward. Speaking afterwards, the Liverpool manager explained the fundamental difference between the two sides. While his own team had "passion, energy and will," the opposition had "cleverness, experience and coolness."
Striving to exonerate Mignolet for Chelsea's goal, Klopp opted instead to praise Luiz using similar terms. "It was really smart, really clever and really well done," he said. In doing so he summed Conte's Chelsea up. In terms of performance and result, Liverpool had matched the opposition, but like most of the teams who have tried and failed to stop the Chelsea juggernaut which has been rolling relentlessly since September they could not match their cleverness.