If you've ever had your head kicked in by a chap wearing Dr Martens boots, you'll know they're made of tough stuff.
Leather, thick-soled and chunkier than a house brick, the original 'Bovver Boots' left an impressive footprint on your face.
But the famous skinhead shoe has left an even more indelible mark on British fashion – one that tissues and a pack of frozen peas just can't shift.
The Doc Martens boot turns 55 today. But thuggish-links aside, it still remains cool as f*ck.
And its stamp is still as visible on cutting-edge style as it ever was on my face.
Punk gigs and protest marches, street fights and riots – Docs were probably there.
Morrissey wore them, Kurt Cobain was a fan and now the likes of Gwen Stefani and Robert Pattison rock a pair; DMs will outlive them all.
(We're amazed that Ed Miliband or David Cameron haven't been spotted wearing some cherry red Docs to garner some much-needed cool points from the kids).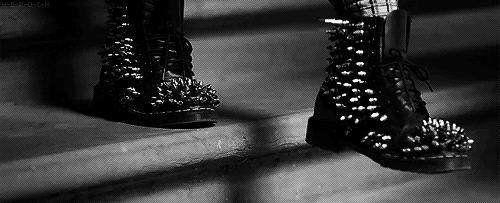 The truth is Dr Martens didn't start out life as the must-have footwear of rebels and rockers.
Policemen, postmen and military sorts favoured the original 1460 boots when they first rolled off the production line on April 1, 1960.
Far from an uber-cool fashion mainstay, the air-cushioned leather lace-ups were created by a German chap who had sore feet from skiing. Oh the irony.
Pete Townshend, of legendary rockers The Who, is said to have been one of the catalysts in turning the boot from substance to style.
Sick of foppish clothes, he plumped for something with a bit more c*ck and balls. The Doc Martens apparently reminded him of his working class roots.
Punks then latched on to the leather skullcrushers. The boot became an icon of the anarchist rebellion in the 1970s with hellraisers like Sid Vicious of the Sex Pistols kitted out with them.
Still only available in black or cherry red, punks would customise them with paint and badges – further fueling their counter-cultural mythology.
The 80s saw figures like Morrissey and Madness don the iconic 8-eye boots and the 90s were all about Cobain and Seattle Grunge.
Fashions have come and gone, trends ebbed and flowed and youth cultures ignited then burned themselves out.
But youth movements as diverse as skins, punks, two tone, Oi!, hardcore, psychobilly, goth, industrial, grebo, grunge and Britpop have all come kicking and screaming in a pair of Docs.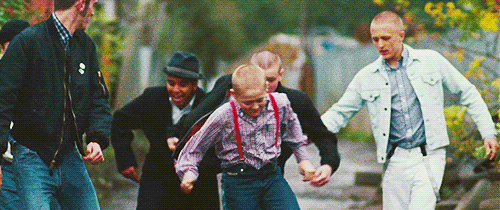 Even now stars like Miley Cyrus and Jessie J are lapping up that head-banging, two-fingered salute, f*ck-the-world cachet that comes as standard with Dr Martens.
It is literally the boot that will not die (they actually come with a lifetime guarantee).
If ever there's a nuclear holocaust they say the only thing that would survive is a cockroach.
JOE imagines they would be wearing a pair of DMs.