6 years ago
Man Crush: Why everybody absolutely bloody loves Idris Elba
Born in Hackney, raised in Canning Town and made on the entirely convincing streets of Baltimore, Idris Elba has to be the best thing to come out of Britain since The Beatles dropped Yellow Submarine.
Often ignored, typecast and pigeon-holed, here's why the actor has defied all expectations to get where he is today - and why he truly deserves his place at the top.
Advertisement
Impeccable fashion sense
Most clothes from any immaculately-curated wardrobe will look decent on the average 6ft 3 man, but Idris Elba brings an entirely new definition to the word "swag".
He has also designed his own fashion range with Superdry. Admittedly, you probably won't look as good in the line as he does...
Advertisement
https://www.youtube.com/watch?v=bA7R5t0zc1E
The quintessential ladies' man
Women seem to find Idris irresistible. Ever since his role as Stringer Bell on the critically acclaimed show The Wire, he has become widely known as one of the sexiest men on the planet. He's confident, good at his job, smooth, intense and has played the "bad boy" role more times than he's had hot dinners. What's not to love?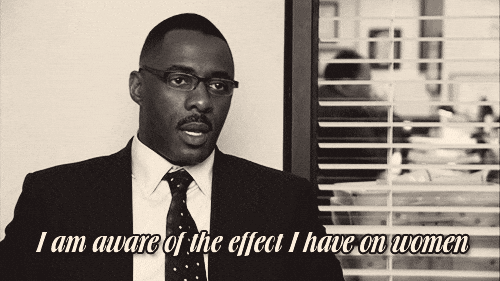 Advertisement
Chill, personified
Being cool, calm and collected is one thing. Then there's Idris Elba. This guy can convey more with one tilt of the head than most men can convey in a public service broadcast announcement. What you gotta be so effortless, bro?
Funny AF
Advertisement
Even though his roles have, at times, been soul-destroyingly sad or deadly serious, not taking himself too seriously is a hallmark of Idris' career. Whether he's taking the mick out of RockNRoller co-star Tom Hardy or making funny of his own shoes on the red carpet, Idris is never short of a few LOLz.
He wants others to benefit from his success
"As a young man I never thought I'd make it into this building" Idris said when speaking to the British parliament about diversity in movies. "To be honest, as an older man I never thought I'd make it in here."
Well, he has made it. And now everyone is shutting up and listening to what he actually has to say...
Advertisement
Living proof that hard work pays off
It took a long time to reach the role of the self-destructive, genius detective in Luther. When Idris Elba talks about the struggle of his early career he comes across as humble and wholly relatable, and it might cause you to wonder what took the movie business so long to recognise his talent. Either way, we sure are glad he finally made it.
https://www.youtube.com/watch?v=hAb_8G_Nz34
That music tho...
Idris used to be a rapper and MC back in the day, something he has recently reprised over the past few years. Skepta's 'Shutdown' was undoubtedly the definitive club banger of last year, made even better by a guest appearance from Idris. The full track from their kill collaboration can be found here.
@Skepta Put me on the Remix!!!!!! cus I SHUT DOWN prime TV on the Regular😎. pic.twitter.com/z6DprRSmSt

— Idris Elba (@idriselba) March 19, 2015
A role model for modern fatherhood
On and off screen, Idris sets a bar for what a good dad should be. In real life, he couldn't be a prouder parent and regularly posts pictures and videos of the antics he gets up to with his kids. Apparently the main reason he took on roles in Finding Dory and The Jungle Book was because he knew "my kids would love it."
Our best shot at a decent Bond
Some people have claimed that Idris is "too street" to play James Bond. Don't worry about the fact that Tom Hardy played both Kray Twins, to that Benedict Cumberbatch has all the gravitas of a dirty sock. Anyone who knows anything about the Bond franchise wants Idris next. Besides, what other British actor can pull off a tux like this?
I keep warning you: a Ghanaian man over 6ft is a deep threat to all our freedoms. pic.twitter.com/k7WFsZPkMN

— Carl Anka (@Ankaman616) May 3, 2016
True to form, Idris had his own brilliant response to the "too street" slight:
So... Much... Depth...
While a lot of actors aren't the brightest bulbs in the proverbial boxes, Idris' brainpower is pretty damn impressive.
Spending unhealthy amounts of time on social media, can erode your attention span for real 'life' comprehension.Try speaking and listening.

— Idris Elba (@idriselba) February 27, 2016
"Get you a guy that can do both"
If you can play Nelson Mandela with the same credibility as you can play a despotic African warlord you can do virtually anything. Beasts Of No Nation, the Netflix Original Film which premiered last year and starred Elba as the leader of an unit of West African child soldiers, was one of the most underrated and unseen performances of last year. No biggie.
Idris was ROBBED of an Oscar for that role, but he did win a Screen Actors Guild award (as well as a second gong on the same night for Luther) - and a whole new level of Hollywood respect for his immense talent.
We're still waiting for Idris to be offered Bond. Hopefully he turns it down in typical "fuck you" style and plays Luther in the movie version instead. Meanwhile, who should we cover next? Let us know your favourite actors and why you love them so much at [email protected]