4 years ago
Emilia Clarke's nude scene set 'Game Of Thrones' fans on fire
There "ain't no body double", according to the Khaleesi herself...
This week's Game Of Thrones episode, titled 'Book Of The Stranger', saw Daenerys Targaryen (Emilia Clarke) set a temple on fire, before emerging naked from the glowing orange embers.
Pretty impressive. And the actress is damn proud of the scene too.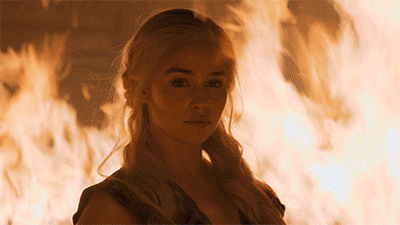 In an interview with EW, Clarke said:
"I'd like to remind people that the last time I took my clothes off was in season 3. That was awhile ago. It's now season 6. But this is all me, all proud, all strong. I'm just feeling genuinely happy I said, 'Yes.' That ain't no body double. It's so exciting, very tingly-making. Every season I get at least one spine-chilling moment.'"
Previously the star attacked several tabloid newspapers on Instagram that had quoted her for saying she had a "problem" showing sex scenes. She now wants to make it clear that isn't the case:
"Sometimes explicit scenes are required and make sense for the characters/story, as they do in Westeros. If it's gratuitous for gratuitous sake, then I will discuss with a director on how to make it more subtle."
If the Twitter reaction is anything to go by, fans are pretty excited...
If Emilia Clark showed up naked in front of me I would bow down too #GameofThrones

— Randy Rona (@iCUPMAMA) May 16, 2016
After last nights @GameOfThrones @emiliaclarke has cemented herself into the no.2 spot on my all time hottest list pic.twitter.com/pvjhqd51q8

— Trav Roebuck (@Trav_Roebuck) May 17, 2016
GOD BLESS EMILIA CLARK HONESTLY OH MY GOD

— ✨joe✨ (@box_of__joe) May 16, 2016
Emilia Clarke is so god damn beautiful

— üssy gussy (@radgyalmaymay) May 7, 2016
Clarke's one-time screen love, Jason Momoa, also chimed in:
Seriously, the scene nearly broke the internet:
Just kicked over some candles and took my top off. #mondaymotivation @emiliaclarke

— Zach Braff (@zachbraff) May 16, 2016
Emilia Clarke: "I'm done with nude scenes"
Emilia Clarke: *does a nude scene*

Me: I'd like to thank the Old Gods & the New! #GameofThrones

— ᴶᵃʲᵘᵃⁿ ᴷ|ᴶ (@StraySpidey) May 16, 2016
There's not much I love more than watching Khaleesi walk through fire. I wish she laid more dragon eggs.

— BCovfefe (@freebirdy31) May 16, 2016
Damn #Khaleesi just set the patriarchy on fire! #demthrones

— nancy chang (@thenancychang) May 16, 2016
Me after Khaleesi walked through the fire #GameofThrones pic.twitter.com/jlBrcJWDlA

— Jaz 🌻💕✨ (@Jazii_GreenEyes) May 16, 2016