5 years ago
VIDEOS: Everyone's taking the p*ss out of Sarah Palin spouting gibberish in support of Donald Trump
Seriously, what is she on?
If you ever wondered what would happen if the irresistible f*cknut met the immovable thunderb*stard, you were in luck this week, as celebrity idiot Sarah Palin jumped aboard the Donald Trump bandwagon to endorse the walking wig's Republican candidacy.
Advertisement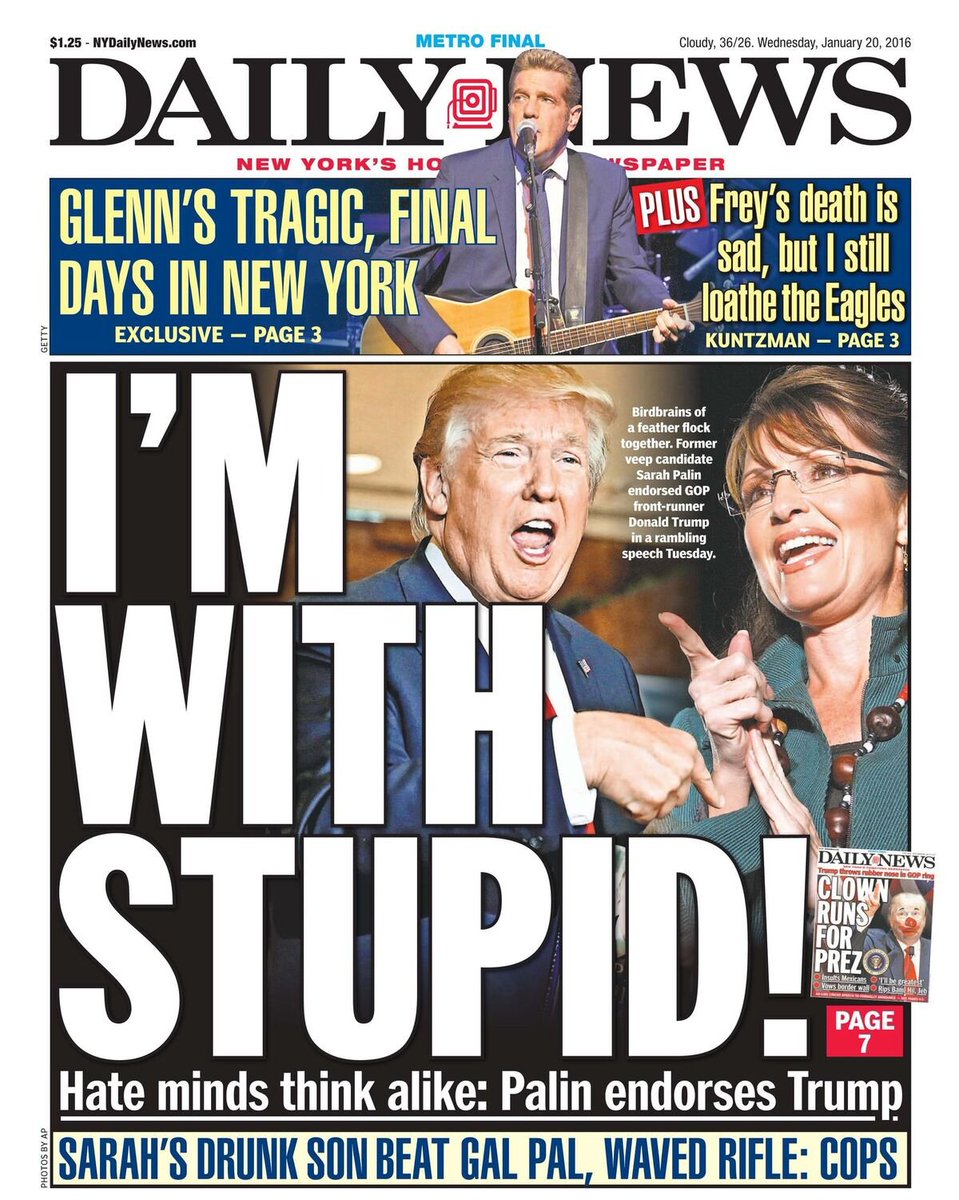 Any sane person of remotely sound mind would of course dismiss the pair as a couple of clowns, but sadly there's enough spectacular morons out there to take the Axis of Inanity very seriously. It's got to the point where anyone who shouts out random words like 'guns' and 'freedom' gets a standing ovation.
That's kind of what Palin did in her shouty nonsensical endorsement speech for Trump. Instead of using a sequence of words to make a sentence, the former Governor of Alaska did away with convention and started ad-libbing a weird new scat-language of Republican buzzwords.
We can't make out precisely what she's banging on about, but there's definitely something in there about 'guns' and 'religion' and 'clingers' in there - the latter of which doesn't sound at all hygienic.
Palin's hard and fast use of the English lexicon may have impressed Trump and his halfwit supporters, but to the rest of the world is was a scattergun mouth-off ripe for the right royal p*sstaking.
Advertisement
Can't wait till this is released!@GeneralBoles #DonaldTrump#SarahPalin pic.twitter.com/2lS40BFHiB

— Tahira Mirza (@tahiramirza1) January 20, 2016
I'm a big fan of Tina Fey, but her impressions of @SarahPalinUSA are just getting stupid. This one is just jibberish https://t.co/YURag357XD

— Phil Hawksworth (@philhawksworth) January 20, 2016
There were comparisons to Iggy Azalea, including a brilliant dub...
Advertisement
does anyone else think Sarah Palin sounds a bit like Iggy Azalea freestyling here https://t.co/zcAfCkXPcP

— Elena Cresci (@elenacresci) January 20, 2016
And of course the inevitable remixes...
Advertisement
https://www.youtube.com/watch?v=C4aJwtyrVzM
I call a lot of things "my masterpiece" but this might actually be my masterpiece https://t.co/cmqlmXINH9

— Jen Lewis (@thisjenlewis) January 20, 2016
Advertisement