5 years ago
Three suspects shot dead after London attack which killed seven and injured 48
Three suspects were shot dead by armed police after Saturday night's horrific London Bridge attack.
The attack left seven people dead and 48 injured.
Advertisement
Londoners were urged by police to "run, hide, tell," if they were caught up in the chaos of the evening.
An eyewitness told the BBC that the three men shouted "this is for Allah," before they mounted the pavement and mowed down a group of pedestrians in a white van travelling at 80km/h on London Bridge.
#Londonbridge #boroughmarket #vauxhall pic.twitter.com/a7OciBEBjH

— Metropolitan Police (@metpoliceuk) June 3, 2017
Advertisement
Using long hunting knives, the attackers then indiscriminately stabbed innocent people shortly after 10pm on Saturday night.
One man was reportedly stabbed five times in the chest; another was stabbed three times. There are further reports of individuals having their throats cut.
A British Transport Police officer was stabbed in the face as he arrived on the scene.
Advertisement
London Ambulance Service has confirmed this morning that it took 48 people to five different London hospitals.
My statement on the cowardly terrorist attack in London tonight: https://t.co/PaGXogN60N
Please continue to follow @metpoliceuk for updates pic.twitter.com/AcGaju2Svp

— Mayor of London, Sadiq Khan (@MayorofLondon) June 4, 2017
Photographs and video footage appear to show at least one of the suspects with metal canisters strapped to his body - though this 'suicide vest' was later said to be a dummy after being examined by experts. The men were shot dead at 10.16pm; just eight minutes after beginning their attack.
Advertisement
This morning, armed law enforcement officers are sweeping the area as the investigation continues. Counter Terrorism Command stated: "We are reviewing and planning to strengthen our policing stance across London over the forthcoming days, and there will be additional police and officers deployed across the Capital."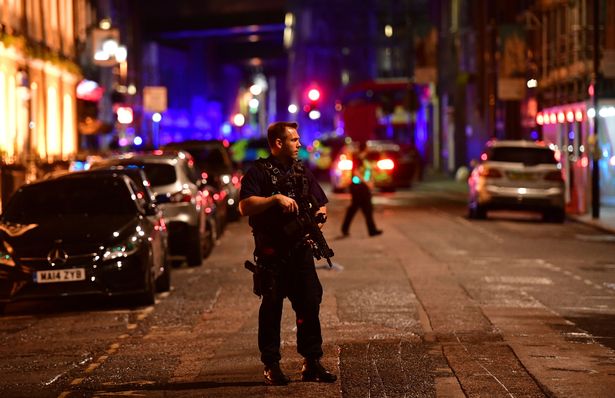 Gerard Vowls was in a pub near London Bridge and said he threw chairs and glasses at the attackers. He told The Guardian: "They kept coming to try to stab me - they were stabbing everyone. Evil, evil people."
Another man, in conversation with DailyMail.com, described how he was in a pub by the Shard: "I was feet away from getting stabbed," he explained. "Saw so many people literally dying. Was in a pub and they were at the door stabbing people."
We have taken 48 patients to hospital following the incident at #LondonBridge https://t.co/hCiKVCBrnb pic.twitter.com/5ipl5vtcTB

— London Ambulance Service 💙 (@Ldn_Ambulance) June 4, 2017
Advertisement
Photographer Gabriele Sciotto was watching the Champions League Final nearby. He told BBC News: "I noticed this man with this kind of explosive looking belt on his chest, they were running," he said.
"A police officer was trying to put himself between them and the crowd. After that they were almost coming towards me and I tried to run away."
He continued: "More police came over, I guess they were on radio or something because in around like two or five seconds they shot all the three men down."
London bridge bar now. Police everywhere pic.twitter.com/0gWH9jhgdX

— James Yates (@Yatesy17) June 3, 2017
One frightening video circulated widely on Twitter also shows people in the basement bar Katzenjammers hiding under tables.
Mayor of London Sadiq Khan described the events as a "deliberate and cowardly attack on innocent Londoners and visitors to our city enjoying their Saturday night".
Prime Minister Theresa May said: "Our thoughts are with those who are caught up in these dreadful events.".