4 years ago
Michelle Obama finally reveals what was in that blue box from Melania
And now we know.
It was just one of the moments from Donald Trump's Inauguration that had viewers scratching their heads, and now we have (some of) the answers we were looking for.
Advertisement
Michelle Obama has finally revealed what was inside that blue Tiffany box that Melania Trump gifted her with at the Inauguration.
We've all seen the pictures of the former First Lady looking around for somewhere to lay the present the Trumps had given her and she's finally given some clarity into that moment.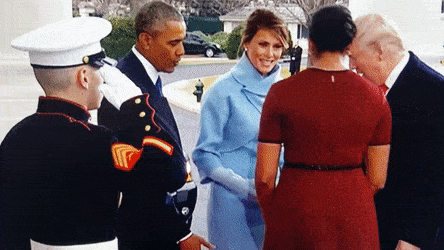 Advertisement
Appearing on Ellen yesterday, Michelle was asked about the gift exchange and she said:
"There is all this protocol because it's a state visit. And never before do you get a gift so I'm sort of like, 'OK, what am I supposed to do with this gift?'

"Everyone cleared out so I'm thinking, 'do we take the picture with the box?' and then my husband came and saved the day and brought it inside."
Former first lady Michelle Obama relives an awkward Inauguration Day gift exchange during her first television interview since leaving the White House https://t.co/yw84e3t0qY pic.twitter.com/6tFwyRo09N

— CNN Politics (@CNNPolitics) February 1, 2018
Advertisement
As for what was inside the blue box, well, Michelle revealed that it was, in fact, a picture frame.
With Tifanny frames retailing for anywhere between £700 and £1,500, we're sure this one has earned pride of place on the Obama mantel.