6 years ago
Scientists have found some very worrying information about bacon
We don't want to alarm you, but we're a little scared by this new scientific research.
Apparently bacon, as well as other processed meats, can make men less fertile.
Advertisement
A study from Harvard T.H. Chan School of Public Health uncovered this concerning pattern, prompting Dr Rebecca Sokol, president of the American Society for Reproductive Health, to admit:
"This study suggests that the type of meat a man consumes may influence his sperm's ability to fertilize an egg."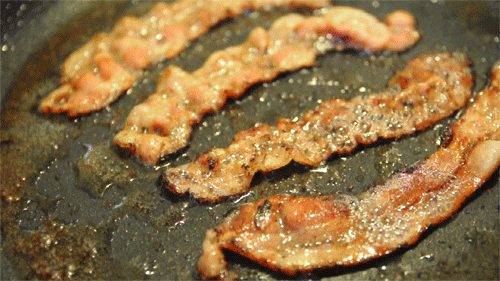 But don't put down that sandwich just yet - some experts have suggested that bacon alone might not be the cause, but rather the diets of people who eat a lot of bacon.
"Perhaps it is not the meat that is the problem, but the dietary choices that men who eat bacon make. Healthier dietary choices usually correlates with a healthier lifestyle, which may overall increase fertility outcomes," said Elizabeth Kavaler, a urology specialist at Lenox Hill Hospital in New York City
That means you probably ought to cut back on these.
Advertisement
Bacon wrapped grilled cheese aka heart attack sandwich pic.twitter.com/tRLkznc9a0

— Kevin Muico (@KevinMuico) August 29, 2015
These probably aren't great either.
Dont miss out on our #chewy #chocolate #SaltedCaramel #Bacon #brownie #Baked #fresh daily by #HomeboysBakery ONLY $3! pic.twitter.com/rDME1G7QJI

— The Lobos Truck-LA (@TheLobosTruck) August 22, 2015
Advertisement
And as for these, well you probably get the picture.
Double cronut burger with bacon and cheese !!! pic.twitter.com/95wB6TI13g

— CameraguyRob🇨🇦 (@CameraguyRob) August 15, 2015
We know they look delicious, but try to restrain yourself.
Advertisement
H/T Shortlist