6 years ago
VanGaalish translated: The secret striker, Matteo Darmian and Mike Smalling
Louis van Gaal doesn't speak English - he speaks VanGaalish.
The Manchester United manager is famed across Europe for his unique take on native tongues. His versions of German and Spanish are unlike those of anyone else.
Advertisement
Before the veteran manager came to these shores, Dutch journalist Peter Zantingh imparted 10 rules to follow when interviewing Van Gaal. It included this on VanGaalish:
"[When] Mr Van Gaal speaks your language, it is no longer your language, it's his. It is not Mr Van Gaal who has trouble speaking English, it is you, for not going along with his obviously much better interpretation of it."
United fans woke up to two big stories on Tuesday morning: Van Gaal was in the process of signing a 'secret' striker, and Matteo Darmian had been bought as a reserve.
This was not mere conjecture or paper talk. It had come straight from the horse's mouth. Van Gaal had said so himself at a press conference in the US.
That much is true, but quite often what Van Gaal means and what he actually says are distant relatives. Firstly let's have a look at the striker comment.
Advertisement
When asked to clarify his previous comments about a possible surprise striker coming in, Van Gaal said: "It's not the striker the media has written about. You have to wait and see."
This was taken as meaning that United were in the process of signing a striker that the media had not yet mentioned. It led to fervent speculation as to who it could be.
The name of Zlatan Ibrahimovic was amongst those mooted, as folk scoured the goalscoring charts of Europe to cross-reference them with newspaper reports.
In fact, it's highly likely that Van Gaal simply meant 'not Thomas Muller'.
Advertisement
He mentioned a surprise striker a few days ago; yesterday the club denies rumours of a record bid for Muller; today the manager said "...not the striker the media have written about."
The comments about Matteo Darmian were less cryptic: "We have brought Darmian for the second position behind Valencia and now already because of that injury (Paddy) McNair has to play there."
Fans reacted with dismay; how could Van Gaal possibly prefer Antonia Valencia, a makeshift full-back, to Italy's first choice in that position? What was this lunacy?
Advertisement
Again, perhaps it's worth taking the comment with a pinch of salt. Van Gaal's specific point was not that Darmian was a reserve, but rather that he'd had to resort to McNair.
His comments when unveiling the ex-Torino man a week or so ago were possibly clearer: "Matteo Darmian has to fight with Valencia. He knows that but Valencia knows that also."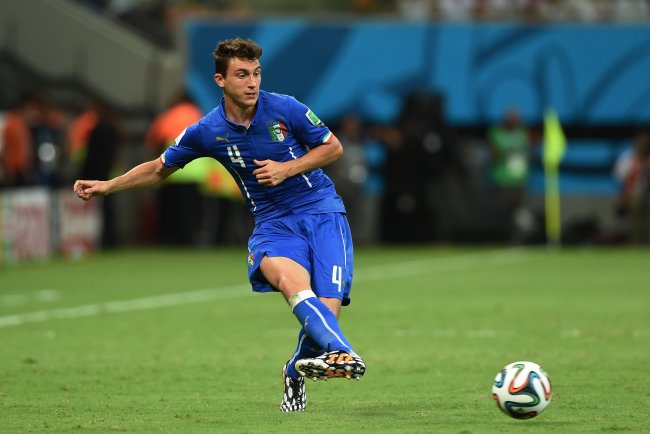 There is every likelihood that Van Gaal will commence the season with Valencia starting, as he eases Darmian into English football. But expect the Italian to lock down the position before long.
Advertisement
So it is possible that Van Gaal's surprise striker has previously been guessed by the press, and Darmian won't necessarily be warming the bench all season.
Anyone who takes every word the United manager says as gospel should perhaps note that he also referred to the defender sitting next to him as "Mike Smalling". But he is Mike Smalling, in VanGaalish.